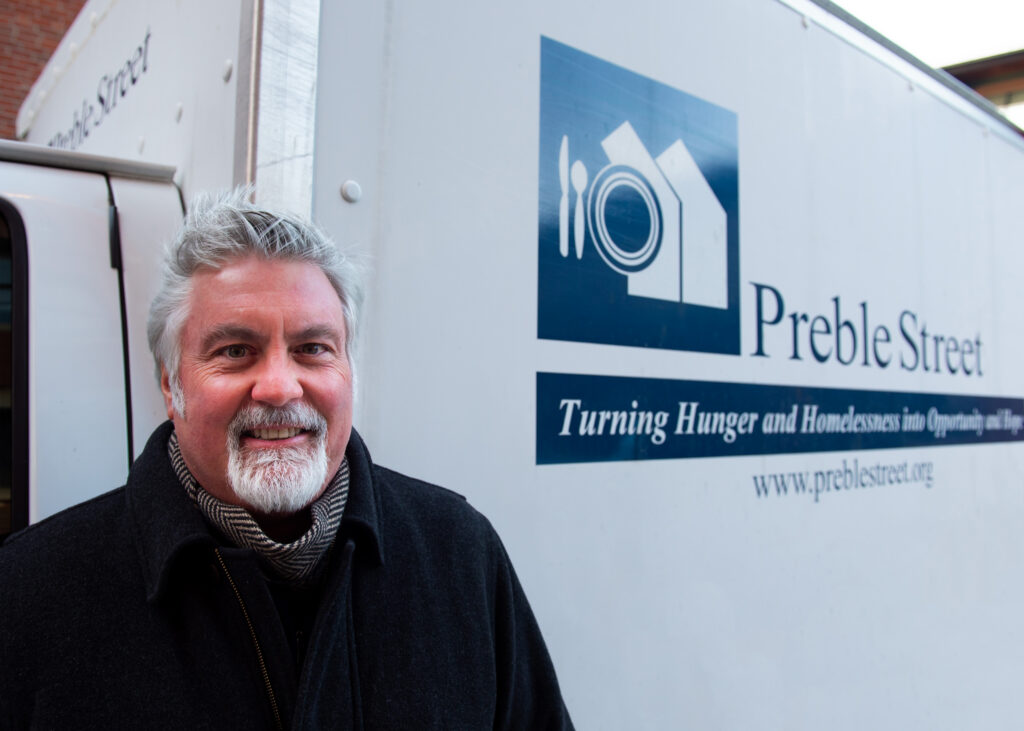 Preble Street is a nonprofit in Maine that provides accessible barrier-free services to empower people experiencing problems with homelessness, housing, hunger, and poverty, and advocates for solutions to these problems. Preble Street is a member of the Initiative to Accelerate Charitable Giving, and Mark Swann is Preble Street's Executive Director.
In 1975, Preble Street was founded as a neighborhood center in Portland, Maine to involve and empower homeless and low-income residents. Almost 50 years later, we have become the hub of programs for the most vulnerable and underserved residents in Maine.
Throughout our existence, we have relied on the generosity of neighbors — from boxes of pasta to help feed the hungry to substantial direct donations that help keep our doors open. But the nature of giving to charities has changed over the years; it is now more common for funds to sit in charitable intermediaries like donor-advised funds (DAFs) or private foundations instead of going directly to local charities.
The growth of these charitable intermediaries impacts the ability of nonprofits to meet the needs of the community. The pandemic exposed the failures in our society that perpetuate homelessness, poverty, and hunger. The demand for nonprofit services has risen — all while over $1 trillion in private foundations and roughly $160 billion in DAFs sits on the sidelines.
We joined the Initiative to Accelerate Charitable Giving because the current charitable giving laws no longer work as intended and fail to incentivize the flow of resources from charitable intermediaries. Storing and growing charitable resources can be beneficial, but nonprofits also need assurances that those funds will get to working charities in a reasonable amount of time. IACG's proposals will help charities like ours gain access to these resources, which is imperative for supporting our work and the communities we serve in Maine.
In the roughly 50 years since our opening, we've seen the impact that every donation can make on a person experiencing hunger, poverty, or homelessness. Every dollar helps someone in our community get back on their feet. Establishing charitable giving laws that prioritize giving in a timely manner means that we can help those who need support now and ultimately minimize the number of people who will need our services tomorrow.