 Last week, the Chronicle of Philanthropy hosted an online briefing – "Speeding Up Charitable Gifts: What a New Senate Bill Would Do" – that featured top philanthropic experts and leaders and discussed current efforts to get money to charities faster, including the Accelerating Charitable Efforts (ACE) Act.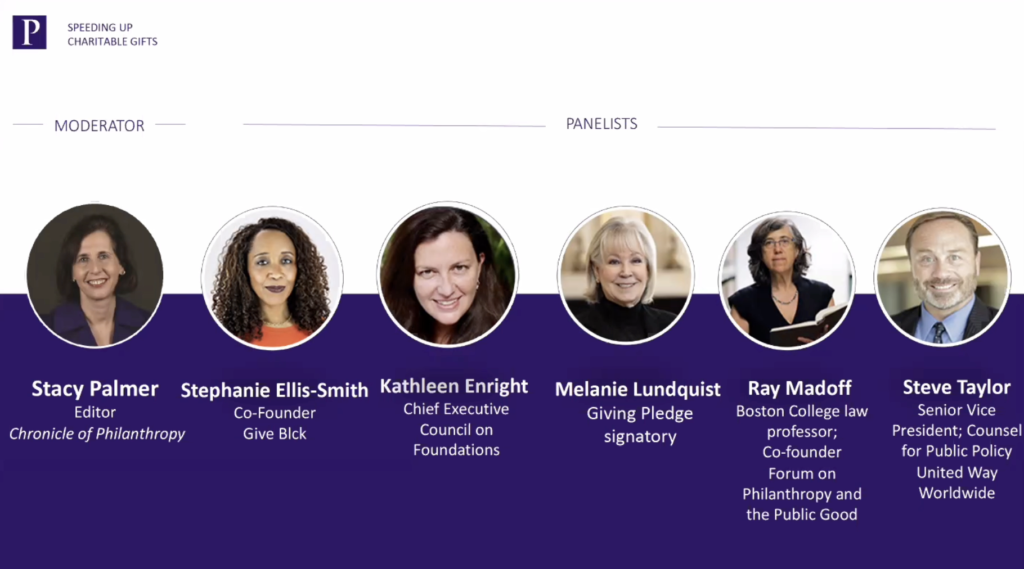 Panelists and IACG members Stephanie Ellis-Smith (Co-Founder, Give Blck), Melanie Lundquist (Activist Philanthropist), and Ray Madoff (Boston College Law Professor) joined the conversation and explained how the ACE Act could accelerate funding from charitable intermediaries to nonprofits and provide an opportunity to strengthen the philanthropic sector and make it more equitable.
Read below for some notable quotes from the event:
Stephanie Ellis-Smith | Co-Founder, Give Blck
"The central reason that Give Blck is a real proud supporter of the ACE Act is because we see that reforming charitable giving law around DAFs to encourage the release of more funds to charities is a crucial step towards achieving racial economic equity in our sector which touches directly on our mission. And frankly, now is the time to do it."
"I personally believe that we must be more deliberate with our philanthropic giving, and intentional with regard to who we want to help, and how. I see the ACE act as a potential force to galvanize people to action, the moment is now, and the need has never been greater. And the casual 'maybe I'll get around to giving,' believing that somehow everything will work itself out in the end, will at best be ineffective as it pertains to dealing with preexisting racial and economic disparities, but it's far more likely that the absence of guardrails around the sequestering of philanthropic dollars will widen gaps that should be closing."
Melanie Lundquist | Activist Philanthropist
"[T]he bottom line is the ACE Act provides very generous tax benefits on a very established timeframe. Otherwise, it's just too easy for the money to sit. That's why we have racked up $1 trillion banked in foundations today, and $140 billion sitting in DAFs. Now, I know it does not all need to go out at once – and that's not what anybody is suggesting – but when you have tax deducted every penny, it shouldn't be allowed to sit either. The ACE Act creates a much greater incentive for giving, and that is why I'm supportive."
"We are very incentivized to put the money into the foundations and DAFs. Now we need to incentivize getting it out. … [T]he other part is putting it back into society for the better good of society."
Ray Madoff | Boston College Law Professor and Co-Founder of the Forum on Philanthropy and the Public Good
"The problem is that these charitable intermediaries have no requirement or even incentives for the funds to come out. … [T]he initiative that I've been working with has been designed to bring the charitable rules up to the 21st century so that they fulfill the goals that we want, which is to make sure the charitable dollars make their way to charity."
"[W]hat [a recent study from the Council of Michigan Foundations] showed is that 57% of the accounts were distributing less than 5%, and in 2020, the year of just unbelievable need – extraordinary need – 37% of DAF accounts distributed nothing. So, there is great disparity amongst the accounts, and to say that because one distributes quickly, others shouldn't distribute at all, isn't really how tax policy works – or should work."
Watch the full recording of Chronicle of Philanthropy's online briefing on the ACE Act here.