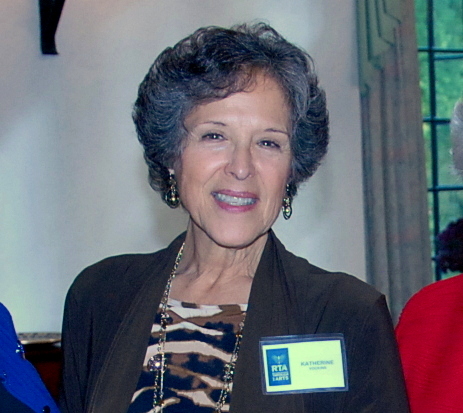 Rehabilitation Through the Arts (RTA) is a member of the Initiative to Accelerate Charitable Giving and a New York-based nonprofit that helps people in prison develop critical life skills through the arts, modeling an approach to the justice system based on human dignity rather than punishment. This week we sat down to chat with RTA's Founder & Executive Director Katherine Vockins about RTA's work and how IACG's proposed reforms would bolster their mission.
Tell us a little about RTA's work and how it impacts the community, particularly those who are victims of social and racial injustice.
Our prison system in the US is based on punishment, but it doesn't work – more than half of people released from prison are back within three years. This revolving door breaks down families and communities and costs taxpayers billions.
RTA offers a better approach. Founded at Sing Sing in 1996, RTA works with professional teaching artists to lead year-round workshops in theatre, dance, music, creative writing, and visual arts. The RTA model provides an intensive, comprehensive arts program that builds critical life skills so that people can meet the challenges of re-connecting with family and community when released.
RTA demonstrates that an approach based on human dignity is vastly more successful than one based on punishment. Less than 5% of RTA members return to prison, compared to the national recidivism rate of 60%.
As a charity working directly to support communities, what has been your experience with structural issues that slow money getting from the broader philanthropic sector into the hands of charities?
In RTA's 25 years of service, we've been fortunate to have a very dedicated community of individual supporters and foundations that have allowed our work to grow and thrive. However, we've seen how structural issues in our sector can delay or reduce funding to non-profits, particularly those who serve communities of color.
Tax laws play a critical role in getting charities funding, why is it so important to reform charitable giving tax laws now?
The IACG's efforts at tax reform have made RTA aware that foundations and donor-advised funds are able to hold onto money for years, tying up funds that could otherwise directly benefit organizations like Rehabilitation Through the Arts. As an organization that receives the majority of its funding from private foundations and individuals, RTA applauds efforts to move money out of foundations and DAFs faster, potentially allowing RTA to expand its rehabilitative programs to a broader population within the facilities where we operate, to open additional NYS prisons and move into prisons outside of New York State. Additional funding—including funds released from appropriate DAFs and foundations—truly would have a direct, positive impact on how incarcerated people re-enter society after incarceration, affecting their families and communities as well.
The Initiative to Accelerate Charitable Giving proposes several reforms to address the problems within our current tax structure. Why did you join this effort?
RTA is proud to join The Initiative to Accelerate Charitable Giving in calling for these critical reforms because they address outdated provisions in the current tax structure and lead the way toward more equity within the system. Given the challenges of prison reform and of creating impactful programs, the ability for RTA to harness increased funding now would enable RTA to expand its programs to many more potential RTA participants, thereby affecting their parole hearings and—because RTA participants' recidivism rates are so dramatically lower than the national rate—actively helping to reduce mass incarceration. We hope these reforms will allow RTA and non-profits like us to engage more deeply in the work that will create lasting change within our communities.